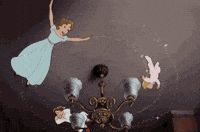 Jodi Lynn Anderson – Tiger Lily
Before Peter Pan belonged to Wendy, he belonged to the girl with the crow feather in her hair…
Fifteen-year-old Tiger Lily doesn't believe in love stories or happy endings. Then she meets the alluring teenage Peter Pan in the forbidden woods of Neverland and immediately falls under his spell.
Peter is unlike anyone she's ever known. Impetuous and brave, he both scares and enthralls her. As the leader of the Lost Boys, the most fearsome of Neverland's inhabitants, Peter is an unthinkable match for Tiger Lily. Soon, she is risking everything—her family, her future—to be with him. When she is faced with marriage to a terrible man in her own tribe, she must choose between the life she's always known and running away to an uncertain future with Peter.
With enemies threatening to tear them apart, the lovers seem doomed. But it's the arrival of Wendy Darling, an English girl who's everything Tiger Lily is not, that leads Tiger Lily to discover that the most dangerous enemies can live inside even the most loyal and loving heart.
Andrea Jones – Hook & Jill
n this startling new vision of a cultural classic, Wendy intends to live happily ever after with Peter Pan. But Time, like this tale,behaves in a most unsettling way. As Wendy mothers the Lost Boys in Neverland, they thrive on adventure. She struggles to keep her boys safe from the Island's many hazards, but she finds a more subtle threat encroaching from an unexpected quarter. . . . The children are growing up, and only Peter knows the punishment
Lisa Jensen – Alias Hook 
"Every child knows how the story ends. The wicked pirate captain is flung overboard, caught in the jaws of the monster crocodile who drags him down to a watery grave. But it was not yet my time to die. It's my fate to be trapped here forever, in a nightmare of childhood fancy, with that infernal, eternal boy."
Meet Captain James Benjamin Hook, a witty, educated Restoration-era privateer cursed to play villain to a pack of malicious little boys in a pointless war that never ends. But everything changes when Stella Parrish, a forbidden grown woman, dreams her way to the Neverland in defiance of Pan's rules. From the glamour of the Fairy Revels, to the secret ceremonies of the First Tribes, to the mysterious underwater temple beneath the Mermaid Lagoon, the magical forces of the Neverland open up for Stella as they never have for Hook. And in the pirate captain himself, she begins to see someone far more complex than the storybook villain.
With Stella's knowledge of folk and fairy tales, she might be Hook's last chance for redemption and release if they can break his curse before Pan and his warrior boys hunt her down and drag Hook back to their neverending game. Alias Hook by Lisa Jensen is a beautifully and romantically written adult fairy tale.
Austin Chant – Peter Darling
Ten years ago, Peter Pan left Neverland to grow up, leaving behind his adolescent dreams of boyhood and resigning himself to life as Wendy Darling. Growing up, however, has only made him realize how inescapable his identity as a man is.
But when he returns to Neverland, everything has changed: the Lost Boys have become men, and the war games they once played are now real and deadly. Even more shocking is the attraction Peter never knew he could feel for his old rival, Captain Hook—and the realization that he no longer knows which of them is the real villain.
Brianna Shrum – Never Never 
James Hook is a child who only wants to grow up. When he meets Peter Pan, a boy who loves to pretend and is intent on never becoming a man, James decides he could try being a child – at least briefly. James joins Peter Pan on a holiday to Neverland, a place of adventure created by children's dreams, but Neverland is not for the faint of heart. Soon James finds himself longing for home, determined that he is destined to be a man. But Peter refuses to take him back, leaving James trapped in a world just beyond the one he loves. A world where children are to never grow up. But grow up he does. And thus begins the epic adventure of a Lost Boy and a Pirate. This story isn't about Peter Pan; it's about the boy whose life he stole. It's about a man in a world that hates men. It's about the feared Captain James Hook and his passionate quest to kill the Pan, an impossible feat in a magical land where everyone loves Peter Pan. Except one.
Colleen Oakes – Wendy Darling: Stars
Wendy Darling has a perfectly agreeable life with her parents and brothers in wealthy London, as well as a budding romance with Booth, the neighborhood bookseller's son. But while their parents are at a ball, the charmingly beautiful Peter Pan comes to the Darling children's nursery and—dazzled by this flying boy with god-like powers—they follow him out of the window and straight on to morning, to Neverland, an intoxicating island of feral freedom. As time passes in Neverland, Wendy realizes that this Lost Boys' paradise of turquoise seas, mermaids, and pirates holds terrible secrets rooted in blood and greed. As Peter's grasp on her heart tightens, she struggles to remember where she came from—and begins to suspect that this island of dreams, and the boy who desires her, have the potential to transform into an everlasting nightmare.
Brom – The Child Thief
Peter is quick, daring, and full of mischief—and like all boys, he loves to play, though his games often end in blood. His eyes are sparkling gold, and when he graces you with his smile you are his friend for life, but his promised land is not Neverland. Fourteen-year-old Nick would have been murdered by the drug dealers preying on his family had Peter not saved him. Now the irresistibly charismatic wild boy wants Nick to follow him to a secret place of great adventure, where magic is alive and you never grow old. Even though he is wary of Peter's crazy talk of faeries and monsters, Nick agrees. After all, New York City is no longer safe for him, and what more could he possibly lose?
There is always more to lose.
Accompanying Peter to a gray and ravished island that was once a lush, enchanted paradise, Nick finds himself unwittingly recruited for a war that has raged for centuries—one where he must learn to fight or die among the "Devils," Peter's savage tribe of lost and stolen children.
There, Peter's dark past is revealed: left to wolves as an infant, despised and hunted, Peter moves restlessly between the worlds of faerie and man. The Child Thief is a leader of bloodthirsty children, a brave friend, and a creature driven to do whatever he must to stop the "Flesh-eaters" and save the last, wild magic in this dying land.
Dave Barry – Peter and the Starcatchers
In an evocative and fast-paced adventure on the high seas and on a faraway island, an orphan boy named Peter and his mysterious new friend, Molly, overcome bands of pirates and thieves in their quest to keep a fantastical secret safe and save the world from evil. Best-selling authors Dave Barry and Ridley Pearson have turned back the clock to reveal the wonderful story that precedes J. M. Barrie's beloved Peter Pan. Peter and the Starcatchers is brimming with richly developed characters, from the scary but somehow familiar Black Stache and ferocious Mister Grin to the sweet but sophisticated Molly and fearless Peter. Page after page of riveting adventures take readers of all ages on a voyage from a filthy, crime-ridden port in old England across the turbulent sea. Aboard the Neverland is a trunk that hold the "greatest treasure on earth" —but is it gold, jewels, or something far more mysterious and dangerous?
Roiling waves and raging storms; skullduggery and pirate treachery provide the backdrop for battles at sea. Bone-crushing breakers eventually land our characters on Mollusk Island—where the action really heats up.
This impossible-to-put-down tale leads readers on an unforgettable journey—fraught with danger yet filled with mystical and magical moments.
Heidi Schulz – Hook's Revenge
Twelve-year-old Jocelyn dreams of becoming every bit as daring as her infamous father, Captain James Hook. Her grandfather, on the other hand, intends to see her starched and pressed into a fine society lady. When she's sent to Miss Eliza Crumb-Biddlecomb's Finishing School for Young Ladies, Jocelyn's hopes of following in her father's fearsome footsteps are lost in a heap of dance lessons, white gloves, and way too much pink.
So when Jocelyn receives a letter from her father challenging her to avenge his untimely demise at the jaws of the Neverland crocodile, she doesn't hesitate-here at last is the adventure she has been waiting for. But Jocelyn finds that being a pirate is a bit more difficult than she'd bargained for. As if attempting to defeat the Neverland's most fearsome beast isn't enough to deal with, she's tasked with captaining a crew of woefully untrained pirates, outwitting cannibals wild for English cuisine, and rescuing her best friend from a certain pack of lost children, not to mention that pesky Peter Pan who keeps barging in uninvited.
The crocodile's clock is always ticking in Heidi Schulz's debut novel, a story told by an irascible narrator who is both dazzlingly witty and sharp as a sword. Will Jocelyn find the courage to beat the incessant monster before time runs out?
Sara Saedi – Never Ever
Wylie Dalton didn't believe in fairy tales or love at first sight.
Then she met a real-life Peter Pan.
When Wylie encounters Phinn—confident, mature, and devastatingly handsome—at a party the night before her brother goes to juvie, she can't believe how fast she falls for him. And that's before he shows her how to fly.
Soon Wylie and her brothers find themselves whisked away to a mysterious tropical island off the coast of New York City where nobody ages beyond seventeen and life is a constant party. Wylie's in heaven: now her brother won't go to jail and she can escape her over-scheduled life with all its woes and responsibilities—permanently.
But the deeper Wylie falls for Phinn, the more she begins to discover has been kept from her and her brothers. Somebody on the island has been lying to her, but the truth can't stay hidden forever.
Audrey Greathouse – The Neverland Wars
Magic can do a lot—give you flight, show you mermaids, help you taste the stars, and… solve the budget crisis? That's what the grown-ups will do with it if they ever make it to Neverland to steal its magic and bring their children home.
However, Gwen doesn't know this. She's just a sixteen-year-old girl with a place on the debate team and a powerful crush on Jay, the soon-to-be homecoming king. She doesn't know her little sister could actually run away with Peter Pan, or that she might have to chase after her to bring her home safe. Gwen will find out though—and when she does, she'll discover she's in the middle of a looming war between Neverland and reality.
She'll be out of place as a teenager in Neverland, but she won't be the only one. Peter Pan's constant treks back to the mainland have slowly aged him into adolescence as well. Soon, Gwen will have to decide whether she's going to join impish, playful Peter in his fight for eternal youth… or if she's going to scramble back to reality in time for the homecoming dance.
Welke heb jij al gelezen?