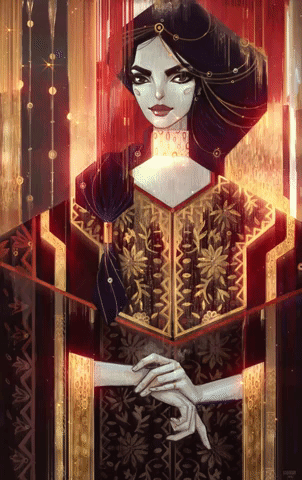 Catherynne M. Valente – The Orphan's Tales
Every once in a great while a book comes along that reminds us of the magic spell that stories can cast over us to dazzle, entertain, and enlighten. Welcome to the Arabian Nights for our time a lush and fantastical epic guaranteed to spirit you away from the very first page.
Secreted away in a garden, a lonely girl spins stories to warm a curious prince: peculiar feats and unspeakable fates that loop through each other and back again to meet in the tapestry of her voice. Inked on her eyelids, each twisting, tattooed tale is a piece in the puzzle of the girl's own hidden history.
And what tales she tells! Tales of shape-shifting witches and wild horsewomen, heron kings and beast princesses, snake gods, dog monks, and living stars each story more strange and fantastic than the one that came before. From ill-tempered mermaid to fastidious Beast, nothing is ever quite what it seems in these ever-shifting tales even, and especially, their teller.
Catherine F. King – The Ninety-Ninth Bride
"When the Sultan has arrived and is at ease, ask that I tell you a story. Do you like stories?"
Dunya is just fifteen years of age when her father, the Grand Vizier, gives her over to the mad Sultan for his bride. Ninety-eight Sultanas before Dunya have been executed, slaughtered at the break of dawn following their first night with their new husband. But on her own wedding night, the ninety-ninth bride finds help from the mysterious and beautiful Zahra, who proposes to tell the Sultan a story… 
E.K. Johnston – A Thousand Nights
Lo-Melkhiin killed three hundred girls before he came to her village, looking for a wife. When she sees the dust cloud on the horizon, she knows he has arrived. She knows he will want the loveliest girl: her sister. She vows she will not let her be next.
And so she is taken in her sister's place, and she believes death will soon follow. Lo-Melkhiin's court is a dangerous palace filled with pretty things: intricate statues with wretched eyes, exquisite threads to weave the most beautiful garments. She sees everything as if for the last time. But the first sun rises and sets, and she is not dead. Night after night, Lo-Melkhiin comes to her and listens to the stories she tells, and day after day she is awakened by the sunrise. Exploring the palace, she begins to unlock years of fear that have tormented and silenced a kingdom. Lo-Melkhiin was not always a cruel ruler. Something went wrong.
Far away, in their village, her sister is mourning. Through her pain, she calls upon the desert winds, conjuring a subtle unseen magic, and something besides death stirs the air.
Back at the palace, the words she speaks to Lo-Melkhiin every night are given a strange life of their own. Little things, at first: a dress from home, a vision of her sister. With each tale she spins, her power grows. Soon she dreams of bigger, more terrible magic: power enough to save a king, if she can put an end to the rule of a monster.
Renée Ahdieh – The Wrath and the Dawn
One Life to One Dawn.
In a land ruled by a murderous boy-king, each dawn brings heartache to a new family. Khalid, the eighteen-year-old Caliph of Khorasan, is a monster. Each night he takes a new bride only to have a silk cord wrapped around her throat come morning. When sixteen-year-old Shahrzad's dearest friend falls victim to Khalid, Shahrzad vows vengeance and volunteers to be his next bride. Shahrzad is determined not only to stay alive, but to end the caliph's reign of terror once and for all.
Night after night, Shahrzad beguiles Khalid, weaving stories that enchant, ensuring her survival, though she knows each dawn could be her last. But something she never expected begins to happen: Khalid is nothing like what she'd imagined him to be. This monster is a boy with a tormented heart. Incredibly, Shahrzad finds herself falling in love. How is this possible? It's an unforgivable betrayal. Still, Shahrzad has come to understand all is not as it seems in this palace of marble and stone. She resolves to uncover whatever secrets lurk and, despite her love, be ready to take Khalid's life as retribution for the many lives he's stolen. Can their love survive this world of stories and secrets?
Hanan Al-Shaykh – One Thousand and One Nights
Erotic, brutal, witty and poetic, One Thousand and One Nights are the never-ending stories told by the young Shahrazad under sentence of death to King Shahrayar. Maddened by the discovery of his wife's orgies, King Shahrayar believes all women are unfaithful and vows to marry a virgin every night and kill her in the morning. To survive, his newest wife Shahrazad spins a web of tales night after night, leaving the King in suspense when morning comes, thus prolonging her life for another day.
Written in Arabic from tales gathered in India, Persia and across the great Arab empire, these mesmerising stories tell of the real and the supernatural, love and marriage, power and punishment, wealth and poverty, and the endless trials and uncertainties of fate.
Now adapted by Hanan al-Shaykh the One Thousand and One Nights are revealed in an intoxicating new voice. 
Alwyn Hamilton – Rebel of the Sands
Mortals rule the desert nation of Miraji, but mythical beasts still roam the wild and remote areas, and rumor has it that somewhere, djinn still perform their magic.  For humans, it's an unforgiving place, especially if you're poor, orphaned, or female.
Amani Al'Hiza is all three. She's a gifted gunslinger with perfect aim, but she can't shoot her way out of Dustwalk, the back-country town where she's destined to wind up wed or dead.
Then she meets Jin, a rakish foreigner, in a shooting contest, and sees him as the perfect escape route. But though she's spent years dreaming of leaving Dustwalk, she never imagined she'd gallop away on mythical horse—or that it would take a foreign fugitive to show her the heart of the desert she thought she knew.
Marjane Satrapi – The Sigh
From the author of Persepolis, comes this illustrated fairy tale. Rose is one of three daughters of a rich merchant who always brings gifts for his girls from the market. One day Rose asks for the seed of a blue bean, but he fails to find one for her. She lets out a sigh in resignation, and her sigh attracts the Sigh, a mysterious being that brings the seed she desired to the merchant. But every debt has to be paid, and every gift has a price, and the Sigh returns a year later to take the merchant's daughter to a secret and distant palace. 
Liz Braswell – A Whole New World
What if Jafar was the first one to summon the Genie?
When Jafar steals the Genie's lamp, he uses his first two wishes to become sultan and the most powerful sorcerer in the world. Agrabah lives in fear, waiting for his third and final wish.To stop the power-mad ruler, Aladdin and the deposed Princess Jasmine must unite the people of Agrabah in rebellion. But soon their fight for freedom threatens to tear the kingdom apart in a costly civil war.
What happens next? A Street Rat becomes a leader. A princess becomes a revolutionary. And readers will never look at the story of Aladdin in the same way again.
Jessica Khoury – The Forbidden Wish
She is the most powerful Jinni of all. He is a boy from the streets. Their love will shake the world…
When Aladdin discovers Zahra's jinni lamp, Zahra is thrust back into a world she hasn't seen in hundreds of years—a world where magic is forbidden and Zahra's very existence is illegal. She must disguise herself to stay alive, using ancient shape-shifting magic, until her new master has selected his three wishes. 
But when the King of the Jinn offers Zahra a chance to be free of her lamp forever, she seizes the opportunity—only to discover she is falling in love with Aladdin. When saving herself means betraying him, Zahra must decide once and for all: is winning her freedom worth losing her heart?
As time unravels and her enemies close in, Zahra finds herself suspended between danger and desire in this dazzling retelling of Aladdin from acclaimed author Jessica Khoury.
S. A. Chakraborty – The City of Brass
Nahri has never believed in magic. Certainly, she has power; on the streets of 18th century Cairo, she's a con woman of unsurpassed talent. But she knows better than anyone that the trade she uses to get by—palm readings, zars, healings—are all tricks, sleights of hand, learned skills; a means to the delightful end of swindling Ottoman nobles.
But when Nahri accidentally summons an equally sly, darkly mysterious djinn warrior to her side during one of her cons, she's forced to accept that the magical world she thought only existed in childhood stories is real. For the warrior tells her a new tale: across hot, windswept sands teeming with creatures of fire, and rivers where the mythical marid sleep; past ruins of once-magnificent human metropolises, and mountains where the circling hawks are not what they seem, lies Daevabad, the legendary city of brass, a city to which Nahri is irrevocably bound.
In that city, behind gilded brass walls laced with enchantments, behind the six gates of the six djinn tribes, old resentments are simmering. And when Nahri decides to enter this world, she learns that true power is fierce and brutal. That magic cannot shield her from the dangerous web of court politics. That even the cleverest of schemes can have deadly consequences.
After all, there is a reason they say be careful what you wish for…
Emma Beeby, Gordon Rennie, Catherine Harvey, Jonathan Barnes – Doctor Who: 1001 Nights
A long time ago, two travellers came from far away…
In the perfumed palace of an omnipotent Sultan, a girl must tell stories to keep the man she cares about from a cruel and horrible death. She spins tales of distant lands she has visited with a mysterious traveller, of fabulous creatures and fantastic adventures – and of a blue box that can travel in time and space.
Meanwhile, in the dungeons below the throne room, there lurks a secret which will bring down the kingdom – perhaps even the universe.
Can the Doctor and Nyssa escape from this never-ending story before the final chapter spells their end?
Welke heb jij al gelezen?