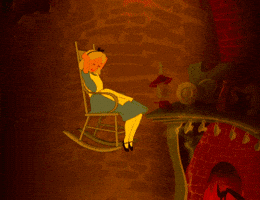 Frank Beddor – The Looking Glass Wars 
When Alyss Heart, newly orphaned heir to the Wonderland throne, flees through the Pool of Tears to escape her murderous Aunt Redd, she finds herself lost and alone in Victorian London. Befriended by an aspiring author named Lewis Carrol, Alyss tells the violent, heartbreaking story of her young life. Alyss trusts this author to tell the truth so that someone, somewhere will find her and bring her home. But he gets the story all wrong. He even spells her name incorrectly!
Fortunately, Royal Bodyguard Hatter Madigan knows all too well the awful truth of Alyss' story – and he's searching every corner of our world to find the lost princess and return her to Wonderland, to battle Redd for her rightful place as the Queen of Hearts.
Christina Henry – Alice 
In a warren of crumbling buildings and desperate people called the Old City, there stands a hospital with cinderblock walls which echo the screams of the poor souls inside.
In the hospital, there is a woman. Her hair, once blond, hangs in tangles down her back. She doesn't remember why she's in such a terrible place. Just a tea party long ago, and long ears, and blood…
Then, one night, a fire at the hospital gives the woman a chance to escape, tumbling out of the hole that imprisoned her, leaving her free to uncover the truth about what happened to her all those years ago.
Only something else has escaped with her. Something dark. Something powerful.
And to find the truth, she will have to track this beast to the very heart of the Old City, where the rabbit waits for his Alice.
Marissa Meyer – Heartless 
Catherine may be one of the most desired girls in Wonderland, and a favorite of the unmarried King of Hearts, but her interests lie elsewhere. A talented baker, all she wants is to open a shop with her best friend. But according to her mother, such a goal is unthinkable for the young woman who could be the next queen.
Then Cath meets Jest, the handsome and mysterious court joker. For the first time, she feels the pull of true attraction. At the risk of offending the king and infuriating her parents, she and Jest enter into an intense, secret courtship. Cath is determined to define her own destiny and fall in love on her terms. But in a land thriving with magic, madness, and monsters, fate has other plans.
Colleen Oakes – Queen of Hearts 
This is not the story of the Wonderland we know. Alice has not fallen down a rabbit hole. There is no all-knowing cat with a taunting smile. This is a Wonderland where beneath each smile lies a secret, each tart comes with a demand, and only prisoners tell the truth.
Dinah is the princess who will one day reign over Wonderland. She has not yet seen the dark depths of her kingdom; she longs only for her father's approval and a future with the boy she loves. But when a betrayal breaks her heart and threatens her throne, she is launched into Wonderland's dangerous political game. Dinah must stay one step ahead of her cunning enemies or she'll lose not just the crown but her head.
Evil is brewing in Wonderland and maybe, most frighteningly, in Dinah herself.
This is not a story of happily ever after.
This is the story of the Queen of Hearts.
A.G. Howard – Splintered
Alyssa Gardner hears the whispers of bugs and flowers—precisely the affliction that landed her mother in a mental hospital years before. This family curse stretches back to her ancestor Alice Liddell, the real-life inspiration for Lewis Carroll's Alice's Adventures in Wonderland. Alyssa might be crazy, but she manages to keep it together. For now.
When her mother's mental health takes a turn for the worse, Alyssa learns that what she thought was fiction is based in terrifying reality. The real Wonderland is a place far darker and more twisted than Lewis Carroll ever let on. There, Alyssa must pass a series of tests, including draining an ocean of Alice's tears, waking the slumbering tea party, and subduing a vicious bandersnatch, to fix Alice's mistakes and save her family. She must also decide whom to trust: Jeb, her gorgeous best friend and secret crush, or the sexy but suspicious Morpheus, her guide through Wonderland, who may have dark motives of his own.
Jessica Arnold – The Looking Glass
Fifteen-year-old Alice Montgomery wakes up in the lobby of the B&B where she has been vacationing with her family to a startling discovery: no one can see or hear her. The cheap desk lights have been replaced with gas lamps and the linoleum floor with hardwood and rich Oriental carpeting. Someone has replaced the artwork with eerie paintings of Elizabeth Blackwell, the insane actress and rumored witch who killed herself at the hotel in the 1880s. Alice watches from behind the looking glass where she is haunted by Elizabeth Blackwell. Trapped in the 19th-century version of the hotel, Alice must figure out a way to break Elizabeth's curse—with the help of Elizabeth's old diary and Tony, the son of a ghost hunter who is investigating the haunted B&B—before she becomes the inn's next victim. 
Crea Reitan – Toxic Wonderland
Mal knew when she entered Wonderland, it would be mad; she was not prepared for it to be toxic and running red with blood. Mal is a Fixer, a child raised and trained to "fix" broken fairy tales by an organization the Fixers refer to as DeadEnd. Because, once you enter a fairy tale, there's no getting out.
Mal has been assigned Wonderland. You know Wonderland, the place Alice visited as a child. Wonderland, with a Mad Hatter and a Cheshire Cat. Wonderland, who has consumed twenty-seven Fixers before Mal and has been dubbed "toxic" by the Operators of DeadEnd. But Wonderland needs to be fixed. It's been toxic so long that every Wonderland story in the real world is being transformed into something entirely not child friendly.
After training for eleven years and studying every re-telling of Lewis Carroll's classic, Mal leaves the world behind and enters her very own dead-end fairy tale. Well… everything is certainly twisted. The people are broken; the Bloody Queens' reign has thrown the world into turmoil and upset the balance; and the places are, quite frankly, mad.
At least she found a few mostly sane, entirely gorgeous men to help her along the way. Help her re-write this fairy tale back to its original wonder. And perhaps help her build a life in Wonderland for when she succeeds – because she is determined to do what the other twenty-seven have not been able to.
Everything seemed pretty straight forward, and going pretty smoothly, until she realized the fairy tale she'd been sent in to fix is actually infected by another…
Cameron Jace – Insanity
After accidentally killing everyone in her class, Alice Wonder is now a patient in the Radcliffe Lunatic Asylum. No one doubts her insanity. Only a hookah-smoking professor believes otherwise; that he can prove her sanity by decoding Lewis Carroll's paintings, photographs, and find Wonderland's real whereabouts. Professor Caterpillar persuades the asylum that Alice can save lives and catch the wonderland monsters now reincarnated in modern day criminals. In order to do so, Alice leads a double life: an Oxford university student by day, a mad girl in an asylum by night. The line between sanity and insanity thins when she meets Jack Diamond, an arrogant college student who believes that nonsense is an actual science.
Kendra Moreno – Mad as a Hatter
Descend into Madness…
Clara spent her whole life fighting in courtrooms for the downtrodden, the strange ones, the abused. It's only natural that when a man with rabbit ears on his head comes to see her, she doesn't blink an eye…
…until he opens a portal and drags her to Wonderland.
But this isn't the world she's read about at home. This world has been twisted, poisoned by none other than the Red Queen.
There's a prophecy, the only chance Wonderland has of survival. Clara is foretold to defeat the Knave and claim the Hatter's heart. But there's a problem. The Hatter is insane and Wonderland is full of unspeakable horrors. Death waits behind every tree. If the Beezles don't get you, the Bandersnatch will.
Can Clara embrace the madness and her destiny, or will the reign of the Red Queen continue?
This isn't the Wonderland you know…
Dakota Chase – Mad About the Hatter
Henry never believed his older sister, Alice's, fantastic tales about the world down the rabbit hole. When he's whisked away to the bizarre land, his best chance for escape is to ally himself with the person called the Mad Hatter. Hatter—an odd but strangely attractive fellow—just wants to avoid execution. If that means delivering "Boy Alice" to the Queen of Hearts at her Red Castle, Hatter will do what he has to do to stay alive. It doesn't matter if Henry and Hatter find each other intolerable. They're stuck with each other.
Along their journey, Henry and Hatter must confront what they've always accepted as truth. As dislike grows into tolerance and something like friendship, the young men see the chance for a closer relationship. But Wonderland is a dangerous place, and first they have to get away with their lives.
DeAnna Knippling – The Queen of Stilled Hearts
Before Lewis Carroll wrote Alice's Adventures in Wonderland, he was humble Charles Dodgson, mathematician at Christ Church college…and a zombie. Kept sane by a serum, chained to an iron ball, considered one of the finest amateur photographers in Britain, and friend to the three charmingly edible daughters of his superior and owner, Dean Liddell, Mr. Dodgson has quite the story to tell. And at least one of the girls, Alice, is entirely willing to listen. Even if it means that her strange zombie friend should have to be killed.
Heather Lyons – The Collectors' Society
After years in Wonderland, Alice has returned to England as an adult, desperate to reclaim sanity and control over her life. An enigmatic gentleman with an intriguing job offer too tempting to resist changes her plans for a calm existence, though. Soon, she's whisked to New York and initiated into the Collectors' Society, a secret organization whose members confirm that famous stories are anything but straightforward and that what she knows about the world is only a fraction of the truth.
It's there she discovers villains are afoot—ones who want to shelve the lives of countless beings. Assigned to work with the mysterious and alluring Finn, Alice and the rest of the Collectors' Society race against a doomsday clock in order to prevent further destruction . . . but will they make it before all their endings are erased? 
Neil Gaiman – Neverwhere
Neverwhere is the story of Richard Mayhew, a young London businessman with a good heart and an ordinary life, which is changed forever when he is plunged through the cracks of reality into a world of shadows and darkness—the Neverwhere. If he is ever to return to the London Above, Richard must join the battle to save this strange underworld kingdom from the malevolence that means to destroy it
Miranda Renae – WonderLand
Kaleb "Rabbit" White hates everything about his life, especially his job at Red Queen Inc. He had plans to quit until a company experiment went wrong, killing an entire room full of people…
Except for one:
Alice.
It's been four years since Alice survived the virus responsible for her mother's death. She's managing to keep the side effects of WonderLand under control and is doing her best to put the trauma of her past behind her. Then, she receives a notecard with one word on it:
"Run."
Alice needs answers. Kaleb wants to protect her. Trapped inside Red Queen Inc., they must work together to find a way out. But first Alice needs to find the cure. 
Melanie Karsak – Curiouser and Curiouser
To save the Hatter, Alice must work with the one man she despises so much that she might still love him.
Alice thought she'd turned over a new leaf. No more working for Jabberwocky. No more making deals with the ruthless Queen of Hearts. No more hanging around The Mushroom with tinkers, tarts, scoundrels, and thieves in London's criminal underbelly. But she'd been bonkers to dream.
Hatter's reckless behavior leads Alice back to the one person she never wanted to see again, Caterpillar. Pulled into Caterpillar's mad schemes, Alice must steal a very big diamond from a very royal lady. The heist is no problem for this Bandersnatch. But protecting her heart from the man she once loved? Impossible.
Sometimes love is mad.
L.L. McKinney – A Blade so Black
The first time the Nightmares came, it nearly cost Alice her life. Now she's trained to battle monstrous creatures in the dark dream realm known as Wonderland with magic weapons and hardcore fighting skills. Yet even warriors have a curfew.
Life in real-world Atlanta isn't always so simple, as Alice juggles an overprotective mom, a high-maintenance best friend, and a slipping GPA. Keeping the Nightmares at bay is turning into a full-time job. But when Alice's handsome and mysterious mentor is poisoned, she has to find the antidote by venturing deeper into Wonderland than she's ever gone before. And she'll need to use everything she's learned in both worlds to keep from losing her head . . . literally.
Tahereh Mafi – Furthermore
Alice Alexis Queensmeadow 12 rates three things most important: Mother, who wouldn't miss her; magic and color, which seem to elude her; and Father, who always loved her. Father disappeared from Ferenwood with only a ruler, almost three years ago. But she will have to travel through the mythical, dangerous land of Furthermore, where down can be up, paper is alive, and left can be both right and very, very wrong. Her only companion is Oliver whose own magic is based in lies and deceit. Alice must first find herself—and hold fast to the magic of love in the face of loss.
H.J. Ramsay – Ever Alice
iAlice's stories of Wonderland did more than raise a few eyebrows—it landed her in an asylum. Now at 15 years of age, she's willing to do anything to leave, which includes agreeing to an experimental procedure. When Alice decides at the last minute not to go through with it, she escapes with the White Rabbit to Wonderland and trades one mad house for another: the court of the Queen of Hearts. Only this time, she is under orders to take out the Queen. When love, scandal, and intrigue begin to muddle her mission, Alice finds herself on the wrong side of the chopping block.
Diverse auteurs – Beware the little white rabbit
Curiosity often leads to trouble…
Thirteen powerful voices in young adult fiction invite you to journey into startling new Wonderlands in this nod to the 150th anniversary of Lewis Carroll's timeless character, ALICE.
Mystery. Madness. Mayhem. Each story in this collection will intrigue, bewitch, and enchant. Through rich historicals, castles and keeps, wild wormholes, secret workshops, deadly plagues, and gritty urban explorations, we present new tales of Alice and her white rabbit.
Whether an intrepid reporter, a would-be car thief, or the last human in a world ruled by machines, at the heart of each story Alice is a girl discovering who she really is in worlds that never fail to surprise.
What wonders await, oh curious reader? Leap down the rabbit hole and discover the truth…
Gena Showalter – Alice in Zombieland
She won't rest until she's sent every walking corpse back to its grave. Forever.
If anyone had told Alice Bell that her entire life would change course between one heartbeat and the next, she would have laughed. From blissful to tragic, innocent to ruined? Please. But that's all it took. One heartbeat. A blink, a breath, a second, and everything she knew and loved was gone.
Her father was right. The monsters are real.
To avenge her family, Ali must learn to fight the undead. To survive, she must learn to trust the baddest of the bad boys, Cole Holland. But Cole has secrets of his own, and if Ali isn't careful, those secrets might just prove to be more dangerous than the zombies.
Er zijn er nog zoveel meer, welke heb jij al gelezen? En welke mis ik?