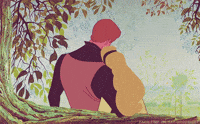 Linda Medley – Castle Waiting 
Castle Waiting graphic novel tells the story of an isolated, abandoned castle, and the eccentric inhabitants who bring it back to life. A fable for modern times, Castle Waiting is a fairy tale that's not about rescuing the princess, saving the kingdom, or fighting the ultimate war between Good and Evil, but about being a hero in your own home.
Neil Gaiman – The Sleeper and the Spindle
On the eve of her wedding, a young queen sets out to rescue a princess from an enchantment. She casts aside her fine wedding clothes, takes her chain mail and her sword and follows her brave dwarf retainers into the tunnels under the mountain towards the sleeping kingdom. This queen will decide her own future – and the princess who needs rescuing is not quite what she seems. Twisting together the familiar and the new, this perfectly delicious, captivating and darkly funny tale shows its creators at the peak of their talents.
Stacey Jay – Princess of Thorns
Though she looks like a mere mortal, Princess Aurora is a fairy blessed with enhanced strength, bravery, and mercy yet cursed to destroy the free will of any male who kisses her. Disguised as a boy, she enlists the help of the handsome but also cursed Prince Niklaas to fight legions of evil and free her brother from the ogre queen who stole Aurora's throne ten years ago.
Will Aurora triumph over evil and reach her brother before it's too late? Can Aurora and Niklaas break the curses that will otherwise forever keep them from finding their one true love?
Jane Yolen – Briar Rose
Ever since she was a child, Rebecca has been enchanted by her grandmother Gemma's stories about Briar Rose. But a promise Rebecca makes to her dying grandmother will lead her on a remarkable journey to uncover the truth of Gemma's astonishing claim: I am Briar Rose. A journey that will lead her to unspeakable brutality and horror. But also to redemption and hope. 
Elizabeth Blackwell – While Beauty Slept
I am not the sort of person about whom stories are told. Those of humble birth suffer their heartbreaks and celebrate their triumphs unnoticed by the bards, leaving no trace in the fables of their time….
And so begins Elise Dalriss's story
When she hears her great-granddaughter recount a tale about a beautiful princess awakened by a handsome prince, it pushes open a door to the past, a door Elise has long kept locked. For Elise was the companion to the real princess who slumbered – and she is the only one left who knows the truth of what happened so many years ago.
As the memories start to unfold, Elise is plunged back in to the magnificent world behind the opulent palace walls. Fleeing a hardscrabble existence and personal tragedy, she builds a new life for herself as a servant to the royal family and quickly rises within the castle hierarchy. As Elise proves herself a loyal confidante, she is drawn into the lives of an extraordinary cast of women: a beautiful queen who wakes each morning with tears on her pillow, an elderly spinster who in heartache shuts herself away, a princess who yearns to be free, and the ambitious and frightening sister who cannot accept the fact that she will never rule. Elise has guarded their secrets – and her own – for a lifetime. While Beauty Slept is her story.
Helen Lowe – Thornspell
Prince Sigismund has grown up hearing fantastical stories about enchantments and faie spells, basilisks and dragons, knights-errant and heroic quests. He'd love for them to be true. He's been sheltered in a country castle for most of his life and longs for adventure, but they are just stories. Or are they?
From the day that a mysterious lady in a fine carriage speaks to him through the castle gates, Sigismund's world starts to shift. He begins to dream of a girl wrapped, trapped, in thorns. He dreams of a palace, utterly still, waiting. He dreams of a man in red armor, riding a red horse and then suddenly that man arrives at the castle!
Sigismund is about to learn that sometimes dreams are true, that the world is both more magical and more dangerous than he imagined, and that the heroic quest he imagined for himself as a boy . . . begins now. 
Anna Sheehan – A Long Long Sleep
Rosalinda had been asleep for 62 years when she was woken by a kiss. Locked away in slumber, the 16-year-old Rose slept straight through dark times that killed millions and utterly changed the world. Hailed upon her awakening as the long-lost heir to an interplanetary empire, she is thrust alone into a dangerous future.
Jenny Moss – Shadow
In a time of kings, queens, and conspiracy, it's impossible to know whom one can trust. . . . In a kingdom far away and long ago, it was prophesied at her birth that the queen would die before her sixteenth birthday. So Shadow, an orphan girl the same age as the young queen, was given the duty to watch her every move. And as prophesies do tend to come true, the queen is poisoned days before her birthday. When the castle is thrown into chaos, Shadow escapes with a young knight, whom she believes was betrothed to the queen.
Unsure of why she is following Sir Kenway, but determined to escape as far as possible from the castle, her long-time prison, Shadow sets off on an adventure with the handsome knight who has been charged with protecting her. As mystery builds, and romantic tension does, too, Shadow begins to wonder what her role in the kingdom truly is. Soon, she learns, it is up to her to save her land.
Jane Yolen – Curse of the Thirteenth Fey
Gorse is the thirteenth and youngest in a family of fairies tied to the evil king's land and made to do his bidding. Because of an oath made to the king's great-great-ever-so-many-times-great-grandfather, if they try to leave or disobey the royals, they will burst into a thousand stars.
When accident-prone Gorse falls ill just as the family is bid to bless the new princess, a fairytale starts to unfold. Sick as she is, Gorse races to the castle with the last piece of magic the family has left–a piece of the Thread of Life. But that is when accident, mayhem, and magic combine to drive Gorse's story into the unthinkable, threatening the baby, the kingdom, and all.
Orson Scott Card – Enchantment
The moment Ivan stumbled upon a clearing in the dense Carpathian forest, his life was forever changed. Atop a pedestal encircled by fallen leaves, the beautiful princess Katerina lay still as death. But beneath the foliage a malevolent presence stirred and sent the ten-year-old Ivan scrambling for the safety of Cousin Marek's farm.
Now, years later, Ivan is an American graduate student, engaged to be married. Yet he cannot forget that long-ago day in the forest–or convince himself it was merely a frightened boy's fantasy. Compelled to return to his native land, Ivan finds the clearing just as he left it.
This time he does not run. This time he awakens the beauty with a kiss . . . and steps into a world that vanished a thousand years ago.
Tia Nevitt – The Sevenfold Spell
Have you ever wondered what happens to the other people in the fairy tale?
Things look grim for Talia and her mother. By royal proclamation, the constables and those annoying "good" fairies have taken away their livelihood by confiscating their spinning wheel. Something to do with a curse on the princess, they said.
Not every young lady has a fairy godmother rushing to her rescue.
Without the promise of an income from spinning, Talia's prospects for marriage disappear, and she and her mother face destitution. Past caring about breaking an arbitrary and cruel law, rebellious Talia determines to build a new spinning wheel, the only one in the nation—which plays right into the evil fairy's diabolical plan. Talia discovers that finding a happy ending requires sacrifice. But is it a sacrifice she's willing to make?
Susann Cokal – The Kingdom of Little Wounds
A young seamstress and a royal nursemaid find themselves at the center of an epic power struggle in this stunning young-adult debut.
On the eve of Princess Sophia's wedding, the Scandinavian city of Skyggehavn prepares to fete the occasion with a sumptuous display of riches: brocade and satin and jewels, feasts of sugar fruit and sweet spiced wine. Yet beneath the veneer of celebration, a shiver of darkness creeps through the palace halls. A mysterious illness plagues the royal family, threatening the lives of the throne's heirs, and a courtier's wolfish hunger for the king's favors sets a devious plot in motion. Here in the palace at Skyggehavn, things are seldom as they seem — and when a single errant prick of a needle sets off a series of events that will alter the course of history, the fates of seamstress Ava Bingen and mute nursemaid Midi Sorte become irrevocably intertwined with that of mad Queen Isabel. As they navigate a tangled web of palace intrigue, power-lust, and deception, Ava and Midi must carve out their own survival any way they can
Katharine & Elizabeth Corr – The Witch's Kiss
Sixteeen-year-old Meredith is fed-up with her feuding family and feeling invisible at school – not to mention the witch magic that shoots out of her fingernails when she's stressed. Then sweet, sensitive Jack comes into her life and she falls for him hard. The only problem is that he is periodically possessed by a destructive centuries-old curse. Meredith has lost her heart, but will she also lose her life? Or in true fairytale tradition, can true love's kiss save the day?
Lexa Hillyer – Spindle Fire
It all started with the burning of the spindles.
No.
It all started with a curse…
Half sisters Isabelle and Aurora are polar opposites: Isabelle is the king's headstrong illegitimate daughter, whose sight was tithed by faeries; Aurora, beautiful and sheltered, was tithed her sense of touch and her voice on the same day. Despite their differences, the sisters have always been extremely close.
And then everything changes, with a single drop of Aurora's blood—and a sleep so deep it cannot be broken.
As the faerie queen and her army of Vultures prepare to march, Isabelle must race to find a prince who can awaken her sister with the kiss of true love and seal their two kingdoms in an alliance against the queen.
Isabelle crosses land and sea; unearthly, thorny vines rise up the palace walls; and whispers of revolt travel in the ashes on the wind. The kingdom falls to ruin under layers of snow. Meanwhile, Aurora wakes up in a strange and enchanted world, where a mysterious hunter may be the secret to her escape…or the reason for her to stay.
Liz Braswell – Once Upon a Dream
What if the sleeping beauty never woke up? Once Upon a Dream marks the second book in a new YA line that reimagines classic Disney stories in surprising new ways.
It should be simple—a dragon defeated, a slumbering maiden, a prince poised to wake her. But when said prince falls asleep as soon as his lips meet the princess', it is clear that this fairy tale is far from over.
With a desperate fairy's last curse infiltrating her mind, Princess Aurora will have to navigate a dangerous and magical landscape deep in the depths of her dreams. Soon she stumbles upon Phillip, a charming prince eager to join her quest. But with Maleficent's agents following her every move, Aurora struggles to discover who her true allies are, and moreover, who she truly is. Time is running out. Will the sleeping beauty be able to wake herself up?
Shonna Slayton – Spindle
Briar Rose knows her life will never be a fairy tale. She's raising her siblings on her own, her wages at the spinning mill have been cut, and the boy she thought she had a future with has eyes for someone else. Most days it feels like her best friend, Henry Prince, is the only one in her corner…though with his endless flirty jokes, how can she ever take him seriously?
When a mysterious peddler offers her a "magic" spindle that could make her more money, sneaking it into the mill seems worth the risk. But then one by one, her fellow spinner girls come down with the mysterious sleeping sickness…and Briar's not immune.
If Briar wants to save the girls—and herself—she'll have to start believing in fairy tales…and in the power of a prince's kiss.
Welke heb jij al gelezen?