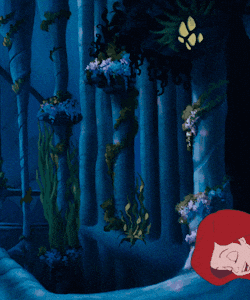 Bennett Madison – September Girls
When Sam's dad whisks him and his brother off to a remote beach town for the summer, he's all for it– at first. Sam soon realizes, though, that this place is anything but ordinary. Time seems to slow down around here, and everywhere he looks, there are beautiful blond girls. Girls who seem inexplicably drawn to him.
Then Sam meets DeeDee, one of the Girls, and she's different from the others. Just as he starts to fall for her, she pulls away, leaving him more confused than ever. He knows that if he's going to get her back, he'll have to uncover the secret of this beach and the girls who live here. 
Liz Braswell – Part of your world
What if Ariel had never defeated Ursula? Five years after the (twisted) events of the film, Ariel is now the queen of Atlantica, and Ursula is running Eric's kingdom on land. But when the sea witch threatens Atlantica once more, Ariel finds herself returning to a world (and a prince) she thought she'd left behind forever. 
S.L. Huang – The Little Homo Sapiens Scientist
Dr. Cadence Mbella is the world's most celebrated scholar of the atargati: sentient, intelligent deep-water beings who are most definitely not mermaids. When Cadence decides to release a captive atargati from scientific experimentation and interrogation, she knows her career and her life is forfeit. But she still yearns for the atargati–there is still so much to know about their physiology, their society, their culture. And Cadence would do anything to more fully understand the atargati… no matter what the cost. 
Esther Dalseno – Drown 
Belonging to a race that is mostly animal with little humanity, a world obsessed with beauty where morality holds no sway, a little mermaid escapes to the ocean's surface. Discovering music, a magnificent palace of glass and limestone, and a troubled human prince, she is driven by love to consult the elusive sea-witch who secretly dominates the entire species of merfolk. Upon paying an enormous price for her humanity, the little mermaid begins a new life, uncovering secrets of sexuality and the Immortal Soul. As a deadly virus threatens to contaminate the bloodstreams of the whole merfolk race, the little mermaid must choose between the lives of her people, the man she loves, or herself.
Julia Ember – The Seafarer's Kiss
Having long-wondered what lives beyond the ice shelf, nineteen-year-old mermaid Ersel learns of the life she wants when she rescues and befriends Ragna, a shield-maiden stranded on the mermen's glacier. But when Ersel's childhood friend and suitor catches them together, he gives Ersel a choice: say goodbye to Ragna or face justice at the hands of the glacier's brutal king.
Determined to forge a different fate, Ersel seeks help from Loki. But such deals are never as one expects, and the outcome sees her exiled from the only home and protection she's known. To save herself from perishing in the barren, underwater wasteland and be reunited with the human she's come to love, Ersel must try to outsmart the God of Lies. 
Carolyn Turgeon – Mermaid
Princess Margrethe has been hidden away while her kingdom is at war. One gloomy, windswept morning, as she stands in a convent garden overlooking the icy sea, she witnesses a miracle: a glittering mermaid emerging from the waves, a nearly drowned man in her arms. By the time Margrethe reaches the shore, the mermaid has disappeared into the sea. As Margrethe nurses the handsome stranger back to health, she learns that not only is he a prince, he is also the son of her father's greatest rival. Sure that the mermaid brought this man to her for a reason, Margrethe devises a plan to bring peace to her kingdom.
Meanwhile, the mermaid Princess Lenia longs to return to the human man she carried to safety. She is willing to trade her home, her voice, and even her health for legs and the chance to win his heart…
Donna Jo Napoli – Sirena
When Sirena and her sisters sing their siren songs to the sailors on their way to the Trojan War, the men crash their ships upon the rocks. There is one survivor. Sirena defies the goddess Hera by tending his wounds and soon the two are deep in love. But does Philoctetes love Sirena's song, or her soul? And will the pull of honor prove stronger than the bond of love?
Elizabeth Fama – Monstrous Beauty
Fierce, seductive mermaid Syrenka falls in love with Ezra, a young naturalist. When she abandons her life underwater for a chance at happiness on land, she is unaware that this decision comes with horrific and deadly consequences.
Almost one hundred forty years later, seventeen-year-old Hester meets a mysterious stranger named Ezra and feels overwhelmingly, inexplicably drawn to him. For generations, love has resulted in death for the women in her family. Is it an undiagnosed genetic defect . . . or a curse? With Ezra's help, Hester investigates her family's strange, sad history. The answers she seeks are waiting in the graveyard, the crypt, and at the bottom of the ocean—but powerful forces will do anything to keep her from uncovering her connection to Syrenka and to the tragedy of so long ago. 
Sarah Porter – Lost Voices
What happens to the girls nobody sees—the ones who are ignored, mistreated, hidden away? The girls nobody hears when they cry for help?
Fourteen-year-old Luce is one of those lost girls. After her father vanishes in a storm at sea, she is stuck in a grim, gray Alaskan fishing village with her alcoholic uncle. When her uncle crosses an unspeakable line, Luce reaches the depths of despair. Abandoned on the cliffs near her home, she expects to die when she tumbles to the icy, churning waves below. Instead, she undergoes an astonishing transformation and becomes a mermaid.
A tribe of mermaids finds Luce and welcomes her in—all of them, like her, lost girls who surrendered their humanity in the darkest moments of their lives. The mermaids are beautiful, free, and ageless, and Luce is thrilled with her new life until she discovers the catch: they feel an uncontrollable desire to drown seafarers, using their enchanted voices to lure ships into the rocks.
Luce's own talent at singing captures the attention of the tribe's queen, the fierce and elegant Catarina, and Luce soon finds herself pressured to join in committing mass murder. Luce's struggle to retain her inner humanity puts her at odds with her friends; even worse, Catarina seems to regard Luce as a potential rival. But the appearance of a devious new mermaid brings a real threat to Catarina's leadership and endangers the very existence of the tribe. Can Luce find the courage to challenge the newcomer, even at the risk of becoming rejected and alone once again?
Sarah Henning – Sea Witch
Everyone knows what happens in the end. A mermaid, a prince, a true love's kiss. But before that young siren's tale, there were three friends. One feared, one royal, and one already dead.
Ever since her best friend, Anna, drowned, Evie has been an outcast in her small fishing town. A freak. A curse. A witch.
A girl with an uncanny resemblance to Anna appears offshore and, though the girl denies it, Evie is convinced that her best friend actually survived. That her own magic wasn't so powerless after all. And, as the two girls catch the eyes—and hearts—of two charming princes, Evie believes that she might finally have a chance at her own happily ever after.
But her new friend has secrets of her own. She can't stay in Havnestad, or on two legs, unless Evie finds a way to help her. Now Evie will do anything to save her friend's humanity, along with her prince's heart—harnessing the power of her magic, her ocean, and her love until she discovers, too late, the truth of her bargain.
Welk boek heb jij al gelezen?